Casoro Jewelry Safes
Visit our Casoro website for the best selection of quality luxury jewelry safes. Explore our most popular Gemstone Collection, the most sophisticated and luxurious Kairos Collection, and the lower cost Classic Collection. Each safe is customized to your needs.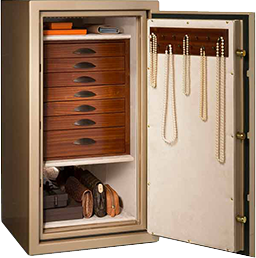 Classic Collection
Trustworthy burglar and fire protection with handcrafted jewelry drawers and customizable velvet lined drawer inserts.
Value Collection
A very affordable solution to your jewelry security needs. Residential burglar and fire protection with production style drawers.
Serious security meets luxury and convenience in our customizable jewelry safes. These safes can be dressed up for the most discriminating buyer or dressed down to meet a budget. Each of our Collections come in several sizes with a choice between industry leading residential or commercial security, the differences are in the luxury amenities. We will consult with you to configure the right blend of security, luxury, convenience and affordability to meet your needs.
With a broad range of options from which to choose we are sure to have the luxury safe that will meet your needs and desires. Give us a call, we would be happy to help you select and design your dream safe, 800.538.0600.
Maximum Security Luxury Jewelry Safes offer a proprietary combination of security, luxury and convenience. We bring together more than 60 years of high end safe manufacturing expertise, gallery quality craftsmanship, luxurious paints, woods and fabrics and highly acclaimed customer service. These luxury jewelry safes for home, made here in Southern California, have been tested and proven in both their excellence in burglar protection and fire protection by independent testing agencies. Underwriters Laboratories, the most respected name in product testing, has put their name on each and every one of these safes.
Our master craftsman has handcrafted interiors of our Kairos, Gemstone, Classic and USC Collections with exotic woods or carbon fiber that he personally selects and finishes. The drawer interiors are covered with high quality fabrics you can customize with layouts of your choice.
In addition, we offer the more affordable, but equally secure Value Collection. These safes for home provide options for those on a budget who still want outstanding quality, protection and customer service. With maple wood chests, red velvet interiors and a choice of two, four, six or eight drawers.
When unyielding security from multiple threats is desired commercial grade high security TL15 and TL30 rated construction can be chosen. This brings the security level up to what is used in the jewelry industry by jewelry stores, designers and manufacturers to secure their inventory.
Our top priority is helping you achieve the peace of mind you desire. We do that by assisting you through education and advisement so that you can select the right solution to your security needs. Call or stop by today and let us get you on the path towards true security.